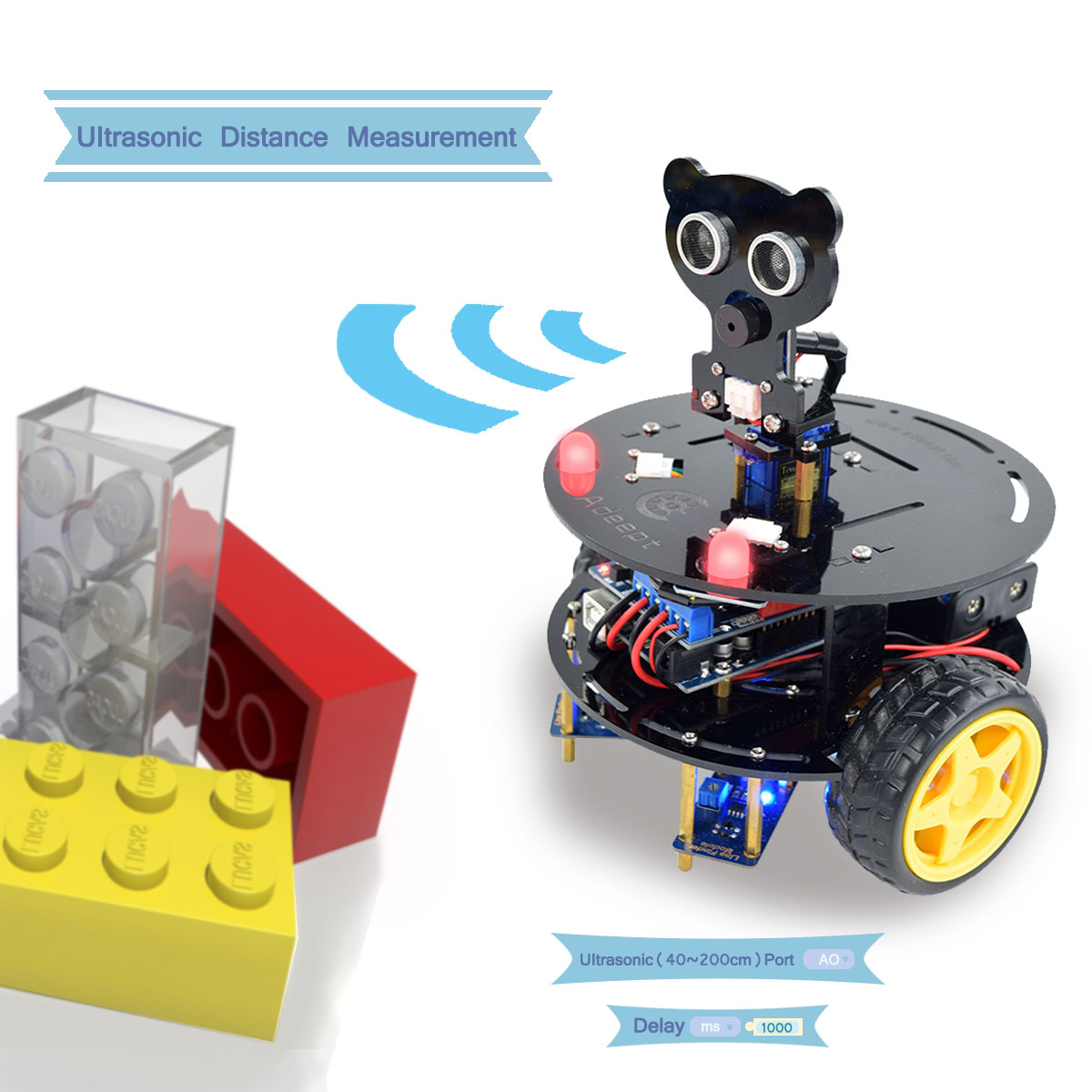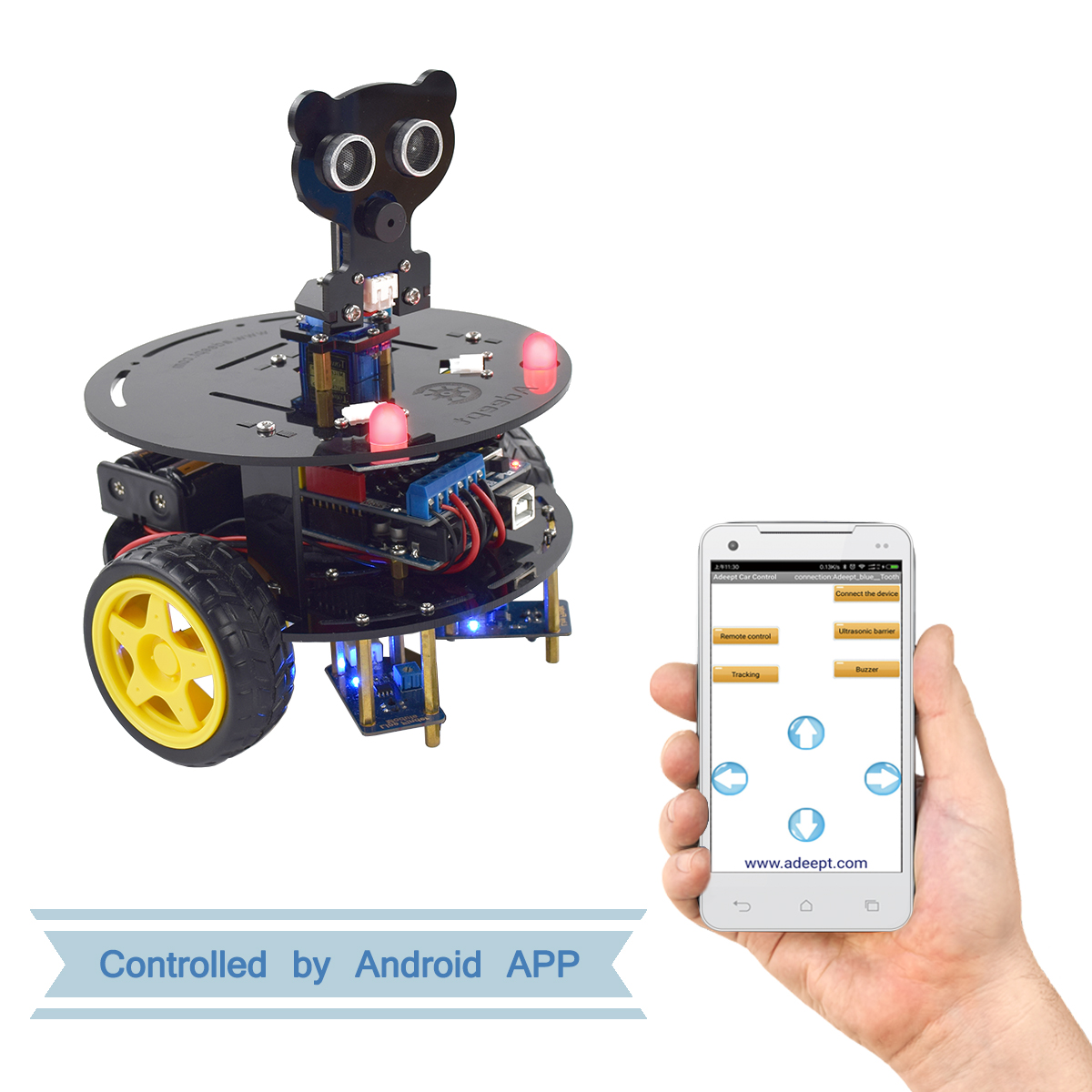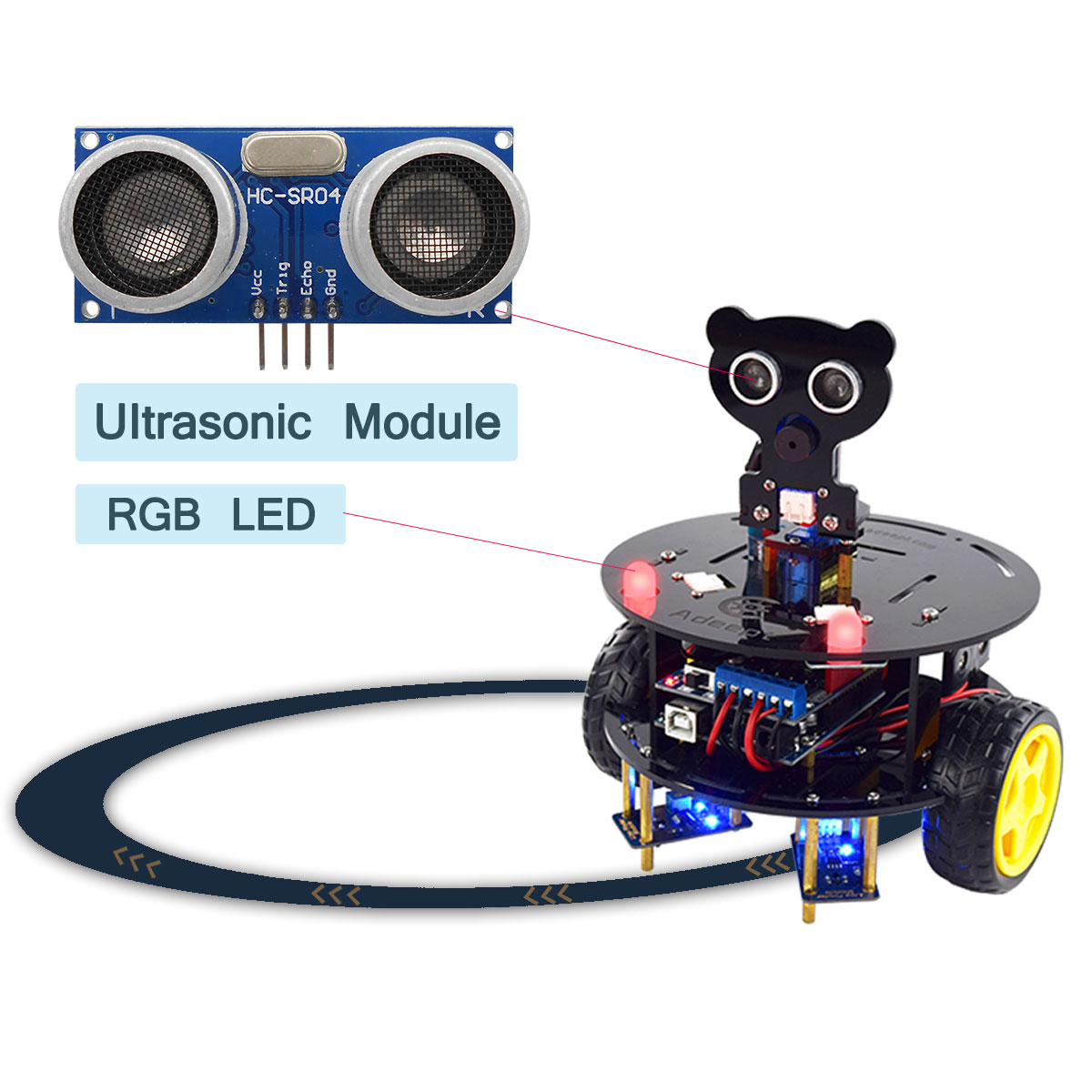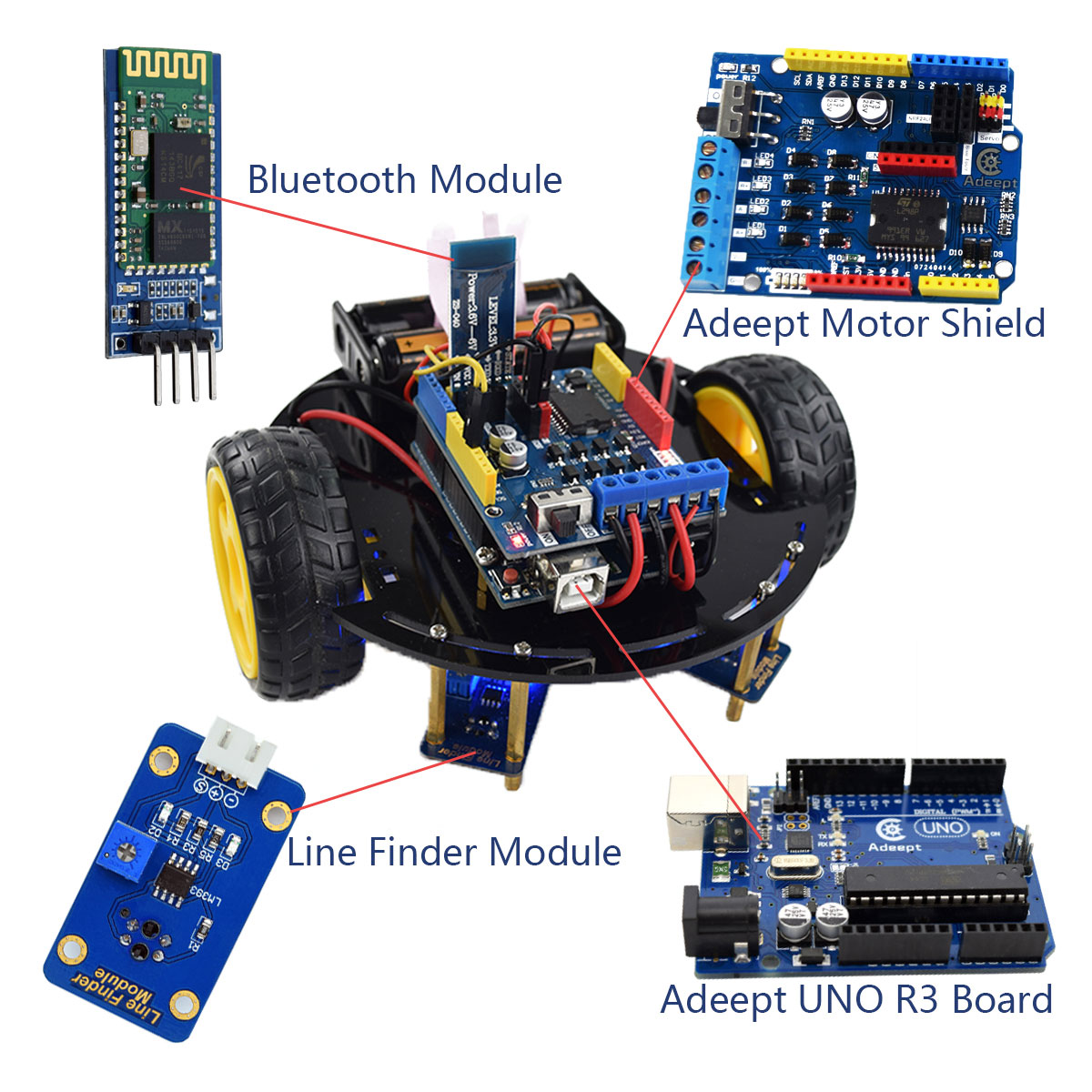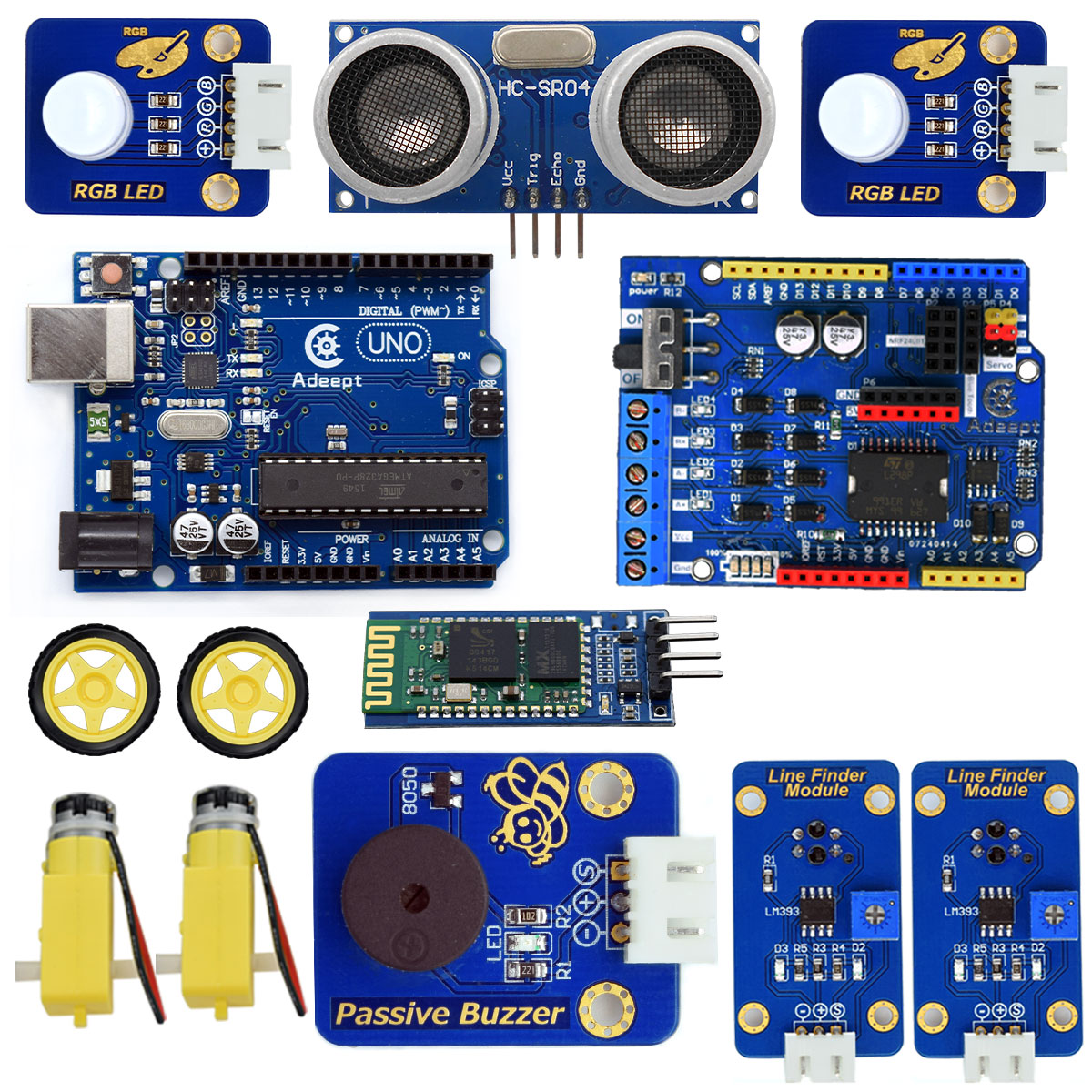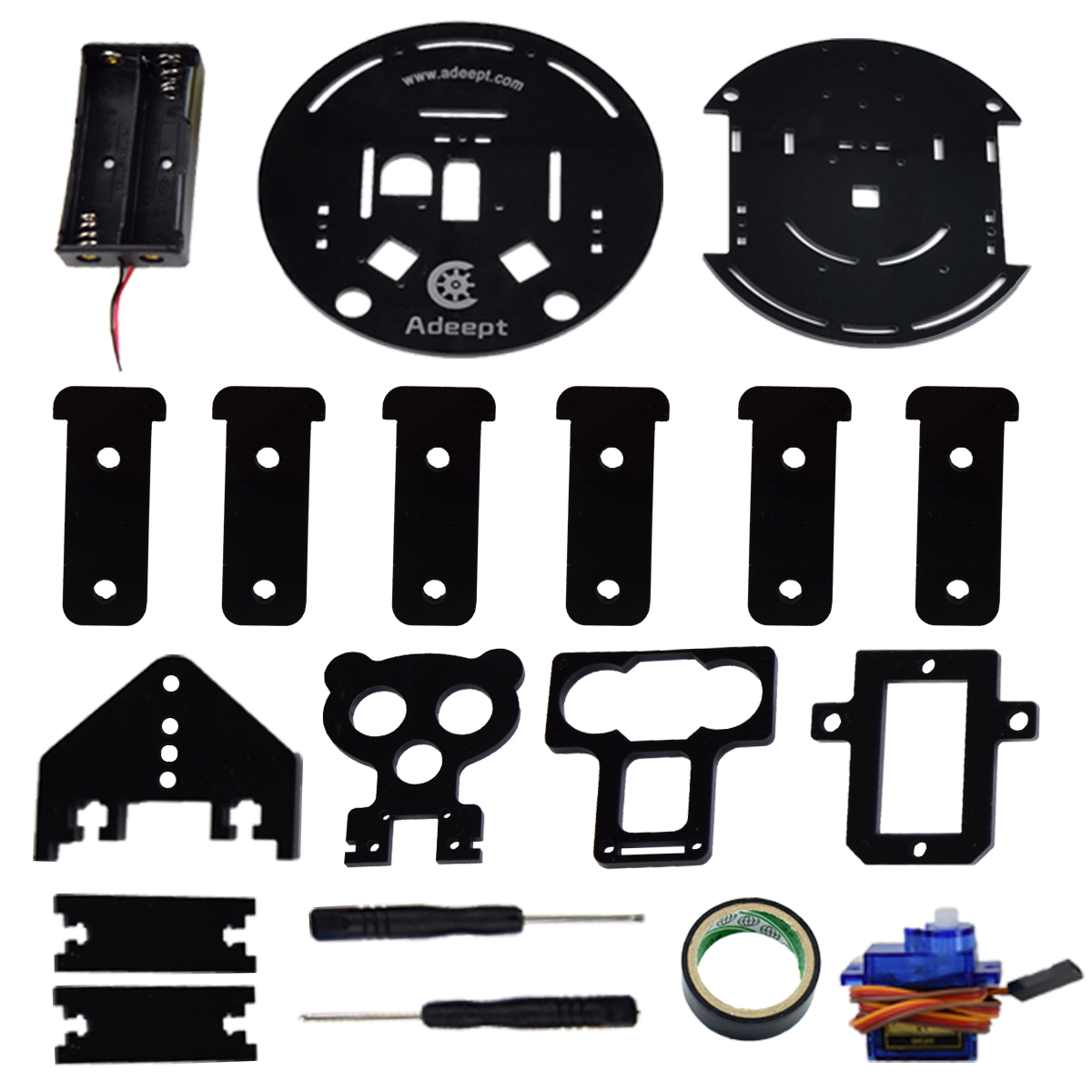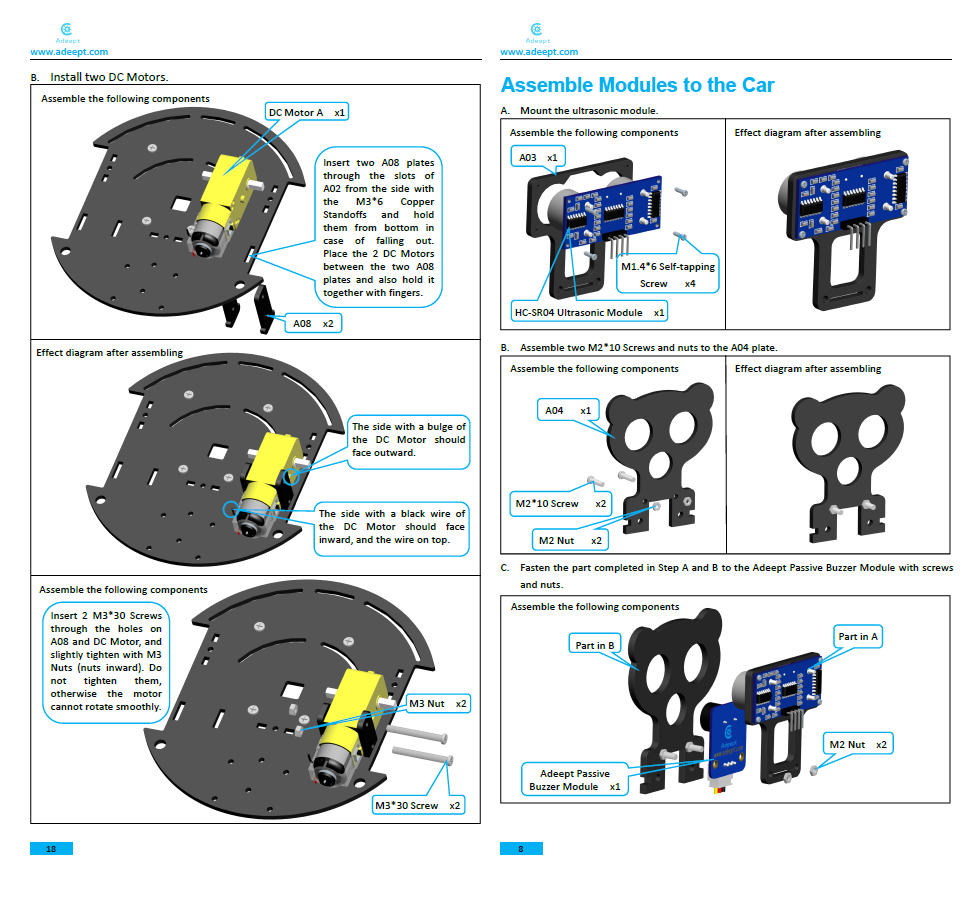 Adeept 3WD Bluetooth Smart Robot Car Kit is an educational and fun kit based on Arduino UNO R3 controller board, designed for both beginners and professionals to learn electronics, programming and robotics. With our easy-to-follow tutorial, assembling this robot car kit would be very intuitive and simple regardless of whether you are an engineer or a beginner.
Building up your own robotic project has never been so easy and fun. Just follow our tutorial and step by step you will have your own running car kit within no time. This kit enables you to have a good quality time with your children and empower them to develop and inspire their imaginations.

The Robot Car Kit has multiple working modes, such as remote control by Android APP, automatic obstacle avoidance, and line tracking modes.
Features:
The 3WD bluetooth smart car kit is designed based on Arduino UNO R3.This is a complete and fun Arduino learning kit. We carefully prepared a detailed tutorial(PDF), the tutorial contains complete circuit diagrams and assembly steps, according to our tutorial, you will be able to easily build your own bluetooth smart car.

The Robot Car Kit has multiple working modes, such as automatic obstacle avoidance, line tracking and remote control by Android APP.

Quick-responding technical support for free.

Adeept Arduino UNO R3 is included

Working Voltage: DC 7V~12V, Powered by two 18650 rechargeable lithium batteries.(This kit does not contain batteries and you need to prepare yourself)
Tutorials Link:
https://www.adrive.com/public/Z2Zsuf/Adeept_3WD_Bluetooth_Car-V1.0.zip
Package List:
1 Set Acrylic Plates
1x Adeept Arduino UNO R3 Board
1x Adeept Motor Shield V2.0
1x Adeept Passive Buzzer Module
2x Adeept RGB LED Module
1x Ultrasonic Module
2x Adeept Line Finder Module
1x HC-06 Bluetooth Transceiver Module
2x Tires
1x Caster wheel
1x Servo
2x DC Motor
1x 18650 Battery case
1x Black tape
1x Wingding pipe
10x Jumper Wire M/F
3x 3-Pin Wires
2x 4-Pin Wires
1x Ribbon
18x M2 Nut
18x M3 Nut
10x M2*8 Screw
4x M2*10 Screw
16x M2.5*7 Screw
24x M3*5 Screw
10x M3*8 Screw
6x M3*30 Screw
10x M2.5*30 Copper Standoff
6x M3*6 Copper Standoff
6x M3*8 Copper Standoff
4x M3*12 Copper Standoff
4x M2.5*10+6 Copper Standoff
6x M1.4*6 Self-tapping Screw
4x M3*10 Countersunk Head Screw
1x Slotted Screwdriver
1x Cross Screwdriver
1x Cross Socket Wrench