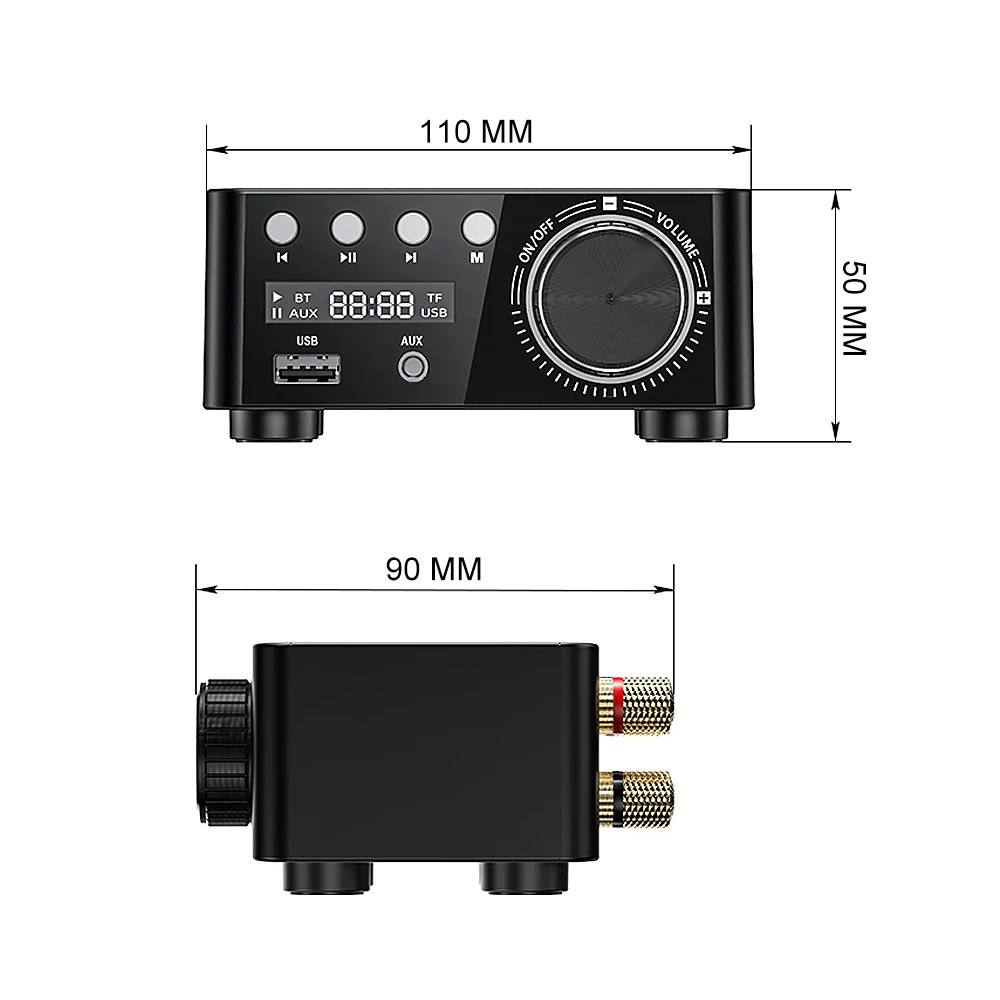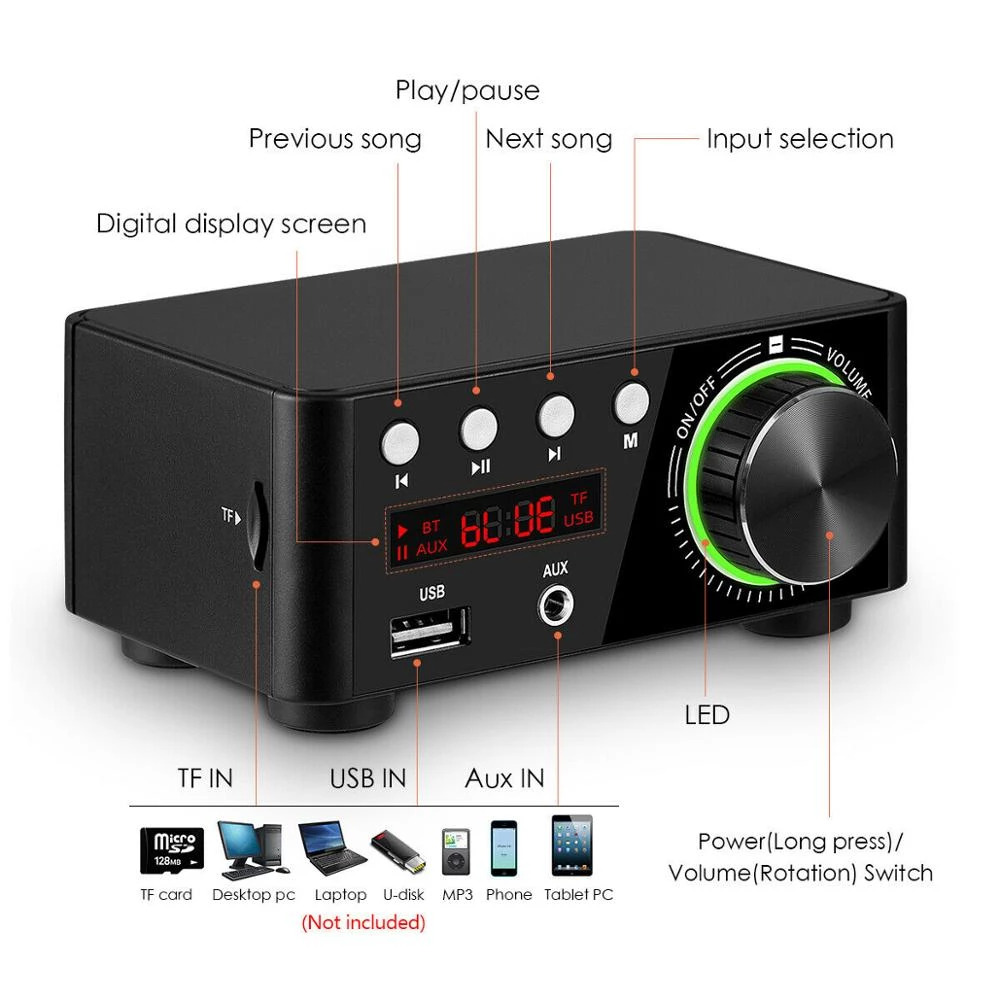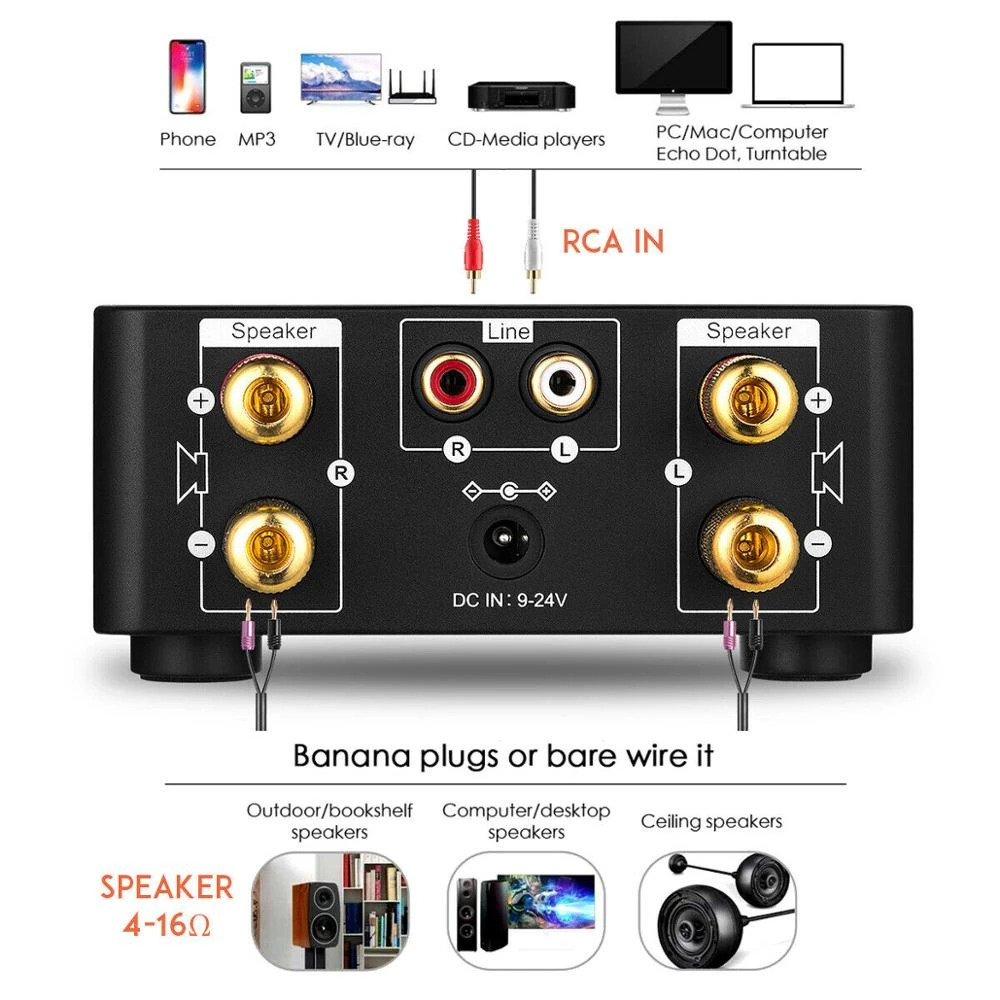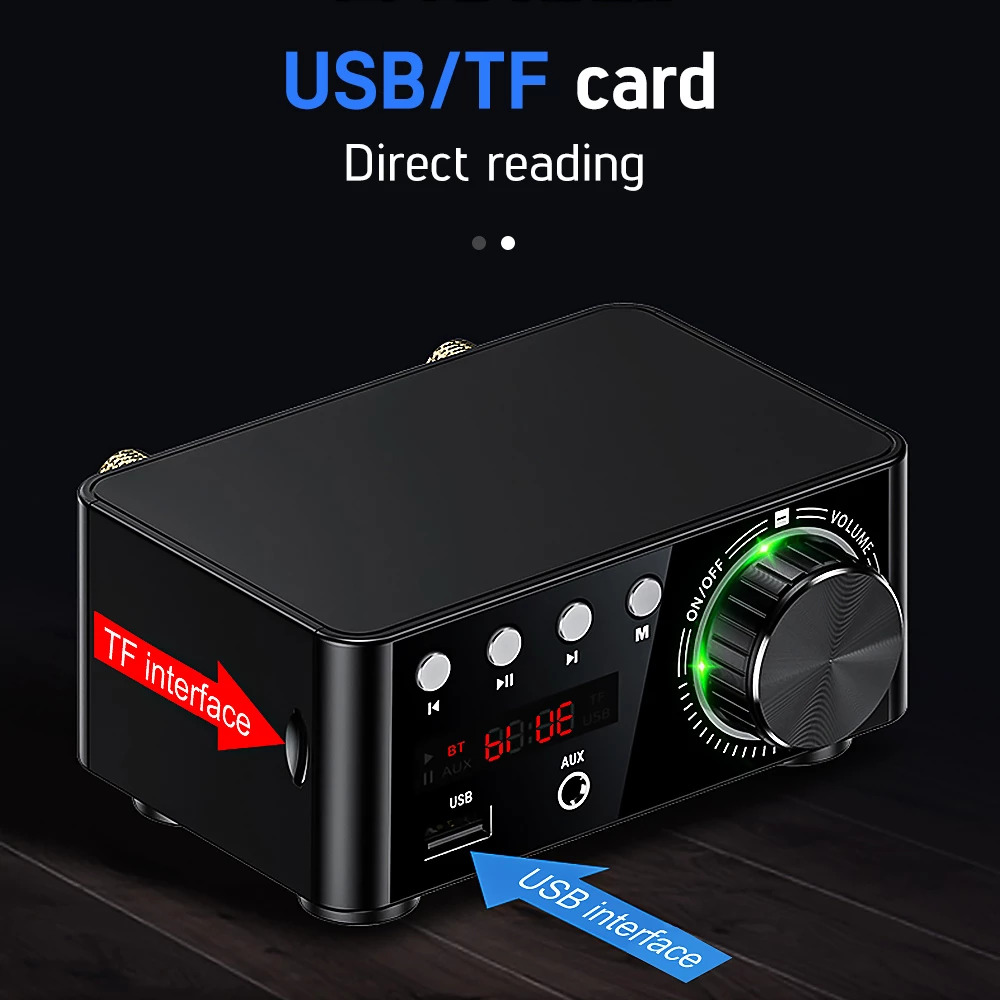 Product Parameters:
Product Name: MA12070 Stereo Digital Power Amplifier
Output power: 50W+50W
Power: DC12-24V (Without power adapter), recommend DC19V 4.74A switch supply power
Current: >3A
Bluetooth: Bluetooth 5.0, at least 12 meters (accessible)
Number of channels: 2.0 stereo
Audio input: 3.5MM stereo input, RCA stereo input, TF, U disk, USB audio input (can be connected to computer / mobile phone / OTG / tablet OTG)
Size: 110*90*50MM
Support U disk and TF card playback, support multiple formats of decoding (MP3/WAV/APE/FLAC);
MP3: sample rate / 8-48K, bit rate / 8-448Kbps, bit width / 16bits channel / mono - stereo;
WAV: sample rate /8-48K, format /WAV ima/Microsoft AD PCM/WAV PCM, bit width /16bits;
FLAC: sampling rate /8-48K, bit width / 16bits;
APE: FAST/NORMAL encoding, bit width / 16 bits.

The amplifier can be connected to mobile phones, computers, tablets, notebooks, MP3s, TVs and projectors with AV audio (Lotus socket) or 3.5mm headphone output holes. A variety of mainstream Bluetooth devices for wireless transmission.
The power amplifier adopts MA12070 chip, the actual output power can reach 50W per channel, 2 channels total 100W (24V power supply), equipped with 12V5A power supply. The output power is 30W*2 (4 ohms), if connected to 8 ohms. The output is about 15W*2. If you need more power, you can configure the power supply yourself. Be careful not to exceed 24V. Otherwise, the chip will be burned out and the power supply should not be too small, because power = voltage * current, if the current power is less than 50W. There may be a power outage.
Amplifier Output:
The power amplifier is a fixed-resistance power amplifier. It supports 4/6/8/16-ohm passive audio/horn. It can't be connected to computer audio and other active audio. It is not suitable for passive subwoofer. The 4 pillars behind the power amplifier are output interfaces. 3.5mm and other earphone plugs or lotus plugs
Car modification:
Conventional car and motorcycle 12V batteries can be directly modified and supplied. Large 24V batteries such as large trucks are not recommended because the voltage will exceed 24V after starting the car. Unless the voltage is reduced by other devices, the power amplifier will be too hot. Long-term use is not good for the chip, even burned out. If you want to modify to the car or use battery power, etc. must be limited to DC24V 5A, the power amplifier plug size is 5.5*2.5MM or 5.5*2.1MM
Package included:
1x MA12070 Amplifier (Without power adapter)